The entrepreneur and founder of Crypto Capital Venture, Dan Gambardello, has offered his forecast for the LTC price in the near term.
No LTC rally, he says, until the coin's quotes manage to break through the $85 level.
An LTC rally – to be or not to be?
Gambardello has some skepticism regarding any price mark Litecoincan hit lower than $85 per coin. It is only after that level, he believes, Charlie Lee's brainchild will be able to begin on a rally. A specific figure the analyst names, at which the community can start jumping around the fire from excitement, is $88.
If LTC fails to reach this price level in the mid-term, we might be in for the downtrend continuation, he says.
Litecoin: Any move less than breaking $85 is not really significant:

$85 is a key area of confluent resistance. Anything below that may just be a lower high in mid-term continued downtrend. I wouldn't get too excited until we're looking at like an $88 Litecoin.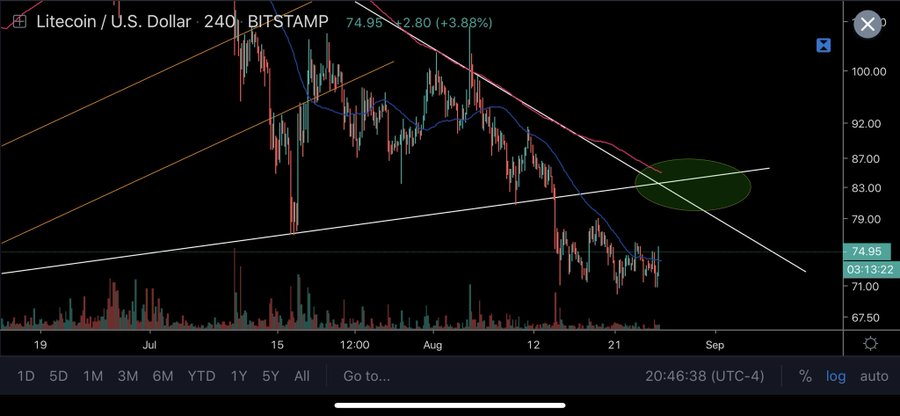 Current market situation for Litecoin
In the first week of August, a much-expected LTC halving took place, the second one from the coin's appearance in 2011. Numerous experts, as well as the crypto community, expected the coin's price to surge after that, since a halving cuts down the miners' reward by half and, therefore, decreases the amount of coins issued into the circulation.
However, the asset's price is moving in a different direction. If on the first day of the halving, it hit the $100 mark and the hashrate did not change much, contrary to what Charlie Lee expected, now the situation is different.
At press time, LTC is trading at $73.79. Its hashrate is now 30 percent lower than it was before the halvening.

Image by CoinMarketCap
In the September, Litecoin is still expected to reach the $100 mark and possibly even break through it.
Besides, now that the trade war between the US and China is getting worse again and the Chinese yuan has reached the lowest price against the USD over last 11 years, Chinese investors may start buying not only Bitcoin and Tether to park their money, but also Litecoin, which is considered to be 'digital silver'.
Chinese Yuan at the lowest rate (¥7.14) to dollar in last 11 years.

Trade war and world political turmoil taking its toll.