Chainlink (LINK) is a decentralized oracle service, which aims to connect smart contracts with data from the real world. Since blockchains cannot access data outside their network, oracles are needed to function as data feeds in smart contracts. Oracles provide external data (e.g. temperature, weather) that trigger smart contract executions upon the fulfillment of pre-defined conditions. Participants on the Chainlink network are incentivized (through rewards) to provide smart contracts with access to external data feeds. Should users desire access to chain data, they can submit a requesting contract to ChainLink's network. These contracts will match the requesting contract with the appropriate oracles. The contracts include a reputation contract ,order-matching contract, and an aggregating contract. The aggregating contract gather data of the selected oracles to find the most accurate results.
ChainLink has rallied 82% for the week after the coin was listed on Coinbase and Coinbase Pro. The so-called "Coinbase Effect" where cryptocurrencies rally on a listing to the influential currency exchange is obviously still a factor for the right coin. The move is a welcome seal of approval for LINK which sees Binance account for 80% of its trading volume and Coinbase will likely bring more U.S. trading volumes to the coin.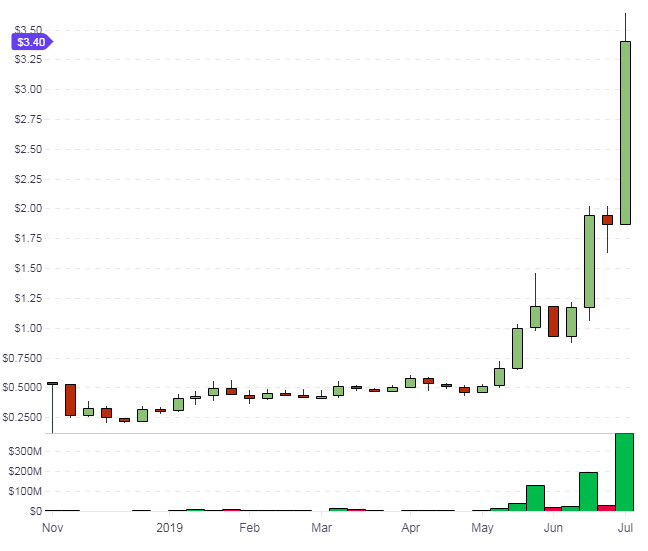 ChainLink aims to connect smarts contracts to external data, events, and payments. The Swift banking system and Google are two organizations that LINK has worked with. It was recently announced that Swift would allow blockchain platforms to access its GPI instant payments system. In its recent report on the future of payments, Swift stated that 85% of its cross-border are now being made with GPI and the opening of its platform to blockchain could be a major blow to the likes of Ripple's XRP, which was aiming to bring their technology to the same space.
ChainLink's recent price surge has seen the project's market cap break the $1 billion barrier at $1.32 billion. The current supply is 370 million Link of a potential 1 billion.