Bitcoin breaks the $7,000 resistance, most coins gain 5% or more today
The positive trend in the market continues, as today's total market cap reached beyond $228 billion. Bitcoin's dominance is slowly decreasing, but that's not necessarily bad news for Bitcoin: it's just passed a major resistance at $7,000. It currently trades at $7,040 on Binance, 5% up in the last 24 hours at the time of writing.

But it takes more than that for Bitcoin to regain traders' trust. Its price still gravitates around the $7,000 limit, but all signs suggest that the prospects are optimistic. Meanwhile, all other top 10 coins on Coin Market Cap (CMC) seem to regain confidence and none of them is less than 3.5% up. IOTA continues on the path it started yesterday, with an astounding 21% increase, and valued at $0.73.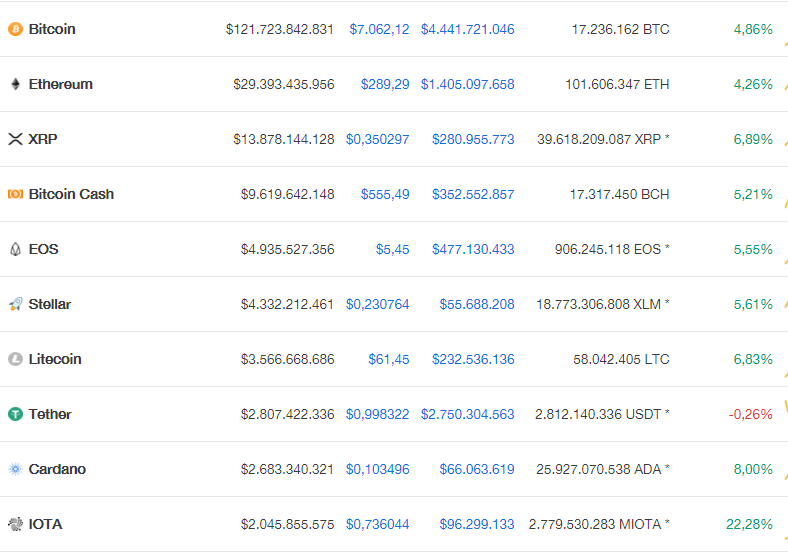 Outstanding Gains
Most coins are up by several percentages (5%+ most of them), but some of them noted unusual increments. Dash and Gas started the day off well with 20%, but Bytecoin caught up and is currently 27.77%up.
Following the conference in Venezuela, Dash announced a new partnership with South American phone company Kripto Mobile Corp. – which added to its already rising popularity in the Latin America and bounced its price to $184.40 (25.95%).
The increase displayed by Gas, on the other hand, probably comes from the NEX ICO for NEON Exchange announced at the beginning of September. The ICO is one of the most expected events this year in the blockchain space, and investors can only contribute by paying in Gas and Neo. It's currently priced at $7.41 (25.77%).
The only coins with no profits today are Emercoin, Kin, and Populous – which note very mild decreases in value nevertheless.
Source: chepicap